Lord Of The Flies AQA English Literature
New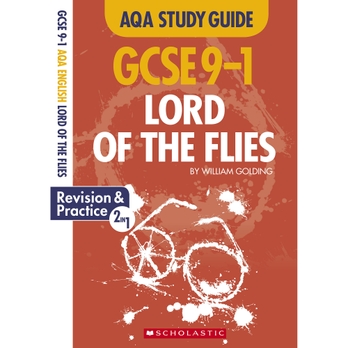 Lord Of The Flies AQA English Literature
HE1824008
Product Description
An essential all-in-one revision and exam practice guide for the AQA English Literature GCSE Lord of the Flies set text – part of a new series of study guides for the new closed-book AQA exams.
Written by experts in teaching English, this book uses an active, stepped approach to maximise learning. It examines Lord of the Flies in detail, focusing on its chronology, key events, characters, themes, context, language and structure. Helpful tips show how to demonstrate your knowledge and understanding in order to achieve higher marks. With loads of exam-style practice questions (and answers), you can't go wrong!
There's also a downloadable app with cutting-edge technology to help you revise on the go. This includes a free, personalised digital revision planner, quick tests to check your understanding, free revision cards to save to your phone, and lots of active revision techniques, tips and tricks.
Do it! Short activities to consolidate your understanding of the text
Review it! Quick quizzes to check your knowledge of key topics
Define it! Definitions of unfamiliar words and important terminology
Nail it! Tips and guidance on exactly what's required in the AQA exam
Snap it! Read it, snap it on your phone and then revise it on the go
Stretch it! Support for the tough stuff that will get you higher grades