Millhouse - Play System Special Offer 1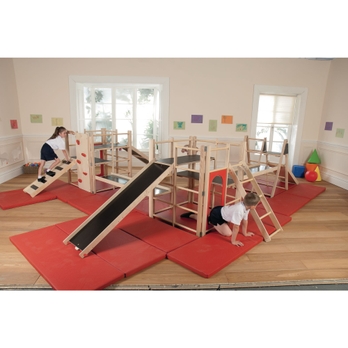 Millhouse - Play System Special Offer 1
HE48790014
Direct Delivery – up to 4 weeks Delays Possible Due To COVID-19
Save when you buy one Climbing House Starter Set, one Climbing Wall, one slide, one Activity A Frame and one Ramp together.
• Made from high quality birch plywood and sealed with a tough water based clear lacquer.
• Platforms are made from durable plywood with a textured laminate for increased durability and grip
• Can be folded for easy storage
Fully conforms to BS EN 1176
This extendable system includes:
• 1 x Climbing house
• 1 x Ramp
• 1 x Ladder
• 1 x Slide/Bridge
• 1 x Climbing wall and Activity A frame
• 1 x Teachers notes for safe configuration
Always use safety mats with climbing equipment
Age Suitability: 3 years +
Can be bought in different configurations to suit every class size. All accessories are attached securely to the frames using special, tamper-proof, turn and screw fastenings allowing children to enjoy the freedom of climbing and balancing in a safe environment.
We recommend to only use indoors to prolong the lifetime of the product This product is exclusive to us.