Helios Planetarium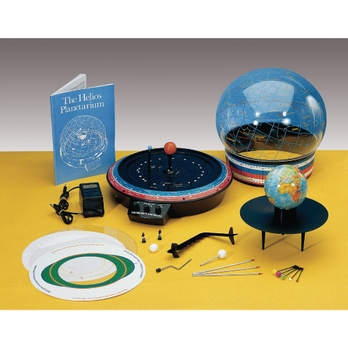 Helios Planetarium
B8A34216
A working model of the planetary system with a 'Star dome' making it a versatile aid for teaching basic astronomy. The planetarium comprises a circular base on which the model planets revolve around the Sun at their correct relative speeds. The upper edge of the base has a calendar and a degree scale for setting the planetary positions. The star dome is of the northern hemisphere.
Supplied with teaching manual covering history, the Sun, planets, comets and space exploration as well as useful tips for demonstration.
Complete with all accessories, and a 240V mains power unit fitted with double insulation and thermal cut-out for overload protection,
Batteries not included (4 x 1.5V D cells).