Harrod Boot Wiper - Floor Fixed Premier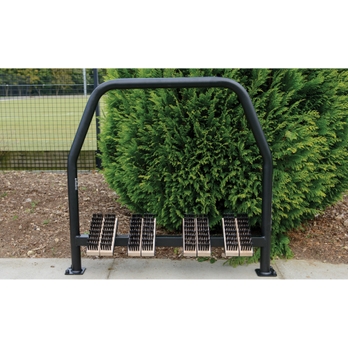 Harrod Boot Wiper - Floor Fixed Premier
PFBP10336
Direct Delivery – up to 2 weeks
Product Description
The Harrod Sport ® Angled Fixed Boot Wiper is designed for use outside communal changing areas. The Premier Boot Wipers are extremely sturdy and hard wearing.
• Angled brushes prevent excessive wear and make it easier to clean boots and shoes when removing soil
• Manufactured from 2mm thick x 50.8mm diameter steel
• Individual 265mm long x 65mm wide brushes with 47mm long polypropylene black bristles.
• Brushes are made from beech timber.
• Polyester powder coated
• No bolts or fixings included.
• Follow manufacturer's instructions. Use correct fittings for ground type.